Scotgen appeals against revocation of Dumfries plant licence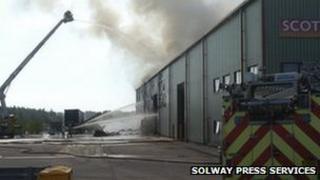 An energy-from-waste firm has appealed against a move to revoke the operating licence for its Dumfries plant.
The Scottish Environment Protection Agency (Sepa) took the action against Scotgen (Dumfries) last month.
It cited a range of operational issues, including persistent non-compliance with permit requirements and failure to comply with an enforcement notice.
However, a Sepa spokesman confirmed that the company had appealed to Scottish ministers over its licence.
"This means that the revocation notice will be in abeyance until final determination or withdrawal of the appeal," he said.
"We await information from the Scottish ministers as to the format, time and venue of the appeal."
The £20m plant was the site of a major blaze earlier this summer, which was tackled by more than 30 firefighters.
As well as seeking to revoke its licence, Sepa also wants to see action taken to avoid pollution and return the site to a "satisfactory state".
It has previously said that the Dumfries plant had "consistently failed" to meet "any reasonable expectation of environmental performance".