Joanna Lumley launches Dumfries Peter Pan window appeal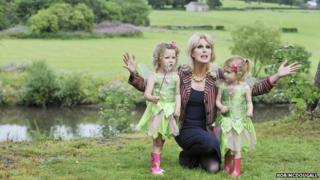 Joanna Lumley is to launch a £100,000 appeal for vital restoration work at the house and garden which inspired JM Barrie to write Peter Pan.
The Windows Appeal seeks to help ensure Moat Brae House in Dumfries is wind and watertight.
Ms Lumley, who is a patron of the Peter Pan Moat Brae Trust, will launch the drive at the Wigtown Book Festival.
She said the plans to turn the house into a centre for children's literature were "just brilliant".
Ms Lumley is appearing at the book festival to speak about her life and her memoir Absolutely.
She has also given strong support to the appeal which is part of wider £4m plans to convert the building.
She said: "I love children and children's literature.
"The idea that this old and beautiful house can be saved and become a children's literature centre for Scotland, welcoming in children from all over the UK and the world, is just brilliant.
"When I heard about it, it was just like Tinker Bell had gone 'ping' on my head with her wand - it seemed such a wonderful idea."
She said the Windows Appeal was an important and symbolic one.
"Peter Pan came in through the windows, and the children followed him out through the windows," she said.
"It is there that Mrs Darling waited for them to return.
"There is something very special about windows as the link between this world and the magical one of Peter Pan.
"The idea that you can sponsor a window and have your very own link with Neverland is wonderful."
Cathy Agnew, project director for the PPMBT, said the appeal was the latest step towards safeguarding the property.
"We saved Moat Brae House just three days before the bulldozers were due to arrive," she said.
"A lot of work has already been done but we urgently need £100,000 to restore the 39 windows, which will make the building wind and watertight - securing it for the next chapter in its future.
"Supporting the Windows Appeal is a wonderful way to have an enduring association with JM Barrie and his 'enchanted land'.
"We plan to inspire future generations through our recreation of the Never Land, and celebrating great children's stories."
Adrian Turpin, Wigtown Book Festival director, said he was "delighted" to be welcoming Ms Lumley to the event which starts on Friday.
"Our 10-day packed programme of talks and activities is about books and much more - from foraging on the Solway saltmarsh to walking in the steps of The Wicker Man - it invites visitors to embrace Galloway's great heritage and outdoors," he said.
"JM Barrie's inspiration for Peter Pan is an exciting and universal slice of such heritage, and we hope the public responds generously to the restoration of Moat Brae House."