Sheep thefts 'a Scotland-wide issue'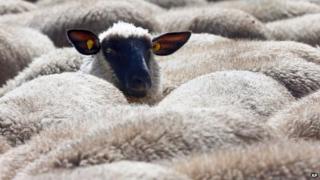 Police have said the value of sheep stolen across Scotland since the start of the year has run to hundreds of thousands of pounds.
They are currently investigating reports of incidents in the Tweeddale area of the Scottish Borders.
However, they said it was an issue which was now affecting the "whole of Scotland".
Police Scotland said it was working with the Scottish SPCA and the National Farmers Union Scotland on the problem.
Ch Insp Andrew Clark said: "In the spring of 2013 officers in the Borders noted a number of crime reports relative to the theft of sheep in this area.
"However, this is a national problem and it's something that we take very seriously and we are investigating thoroughly.
"Early investigation has established the value of these thefts to run in to hundreds of thousands of pounds, which has a serious impact on the farming community."
Scottish SPCA Ch Supt Mike Flynn said it was also worried by the number of incidents across the country.
"We have serious concerns for the welfare of the sheep involved in these thefts," he said.
"Any animal taken in such circumstances is viewed purely as a commodity for onward sale.
"It is highly unlikely that the individuals involved in this practice will be taking the necessary steps to ensure their welfare, including preventing and treating disease and obtaining veterinary treatment as required."