Grand Theft Auto role 'could destroy Hawick's reputation'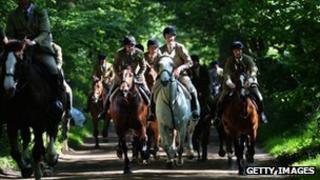 A Hawick councillor has said he is "absolutely disgusted" at the use of the town's name for a "druggie hipster" district in Grand Theft Auto V.
The name of the Borders town features in the latest edition of the computer game series.
Local councillor David Paterson said he feared it could "destroy the reputation" of Hawick.
He said a lot of people were "very proud" of the town and it did not deserve such "adverse publicity".
Grand Theft Auto V was released this week and it is forecast it will sell 25 million copies.
The series is known for its "tongue-in-cheek" humour and regularly includes Scottish references with the game's maker, Rockstar North, being based in Edinburgh.
However, Mr Paterson said he was unhappy for the name of his town - known for its annual common riding - to be used.
"I am absolutely disgusted - there is a lot of history and a lot of good things happening in the town," he said.
"We have got a lot of good things planned for this coming year.
"It is going to destroy the good reputation of the town."
The Scottish Borders councillor said he did not play computer games but he knew there were millions of young people who would buy the game.
"Why did they pick on Hawick?" he asked. "It is a lovely town.
"It is perceptions, it is how people will perceive the town.
"They might perceive Hawick in a bad light and Hawick is a lovely place - a lot of people are very, very proud of Hawick."
The situation has prompted the town's MSP, John Lamont, to invite the game's producers to visit the area.
"I, like many other Hawick residents, was shocked to hear that the name of the town had been used in Grand Theft Auto V," he said.
"Not only is it a game which includes violence, sex and drugs, but the game's producers themselves describe the area of Hawick in the game as having a 'drug addict hipster vibe'.
"While some may take the view that any publicity is good publicity, I am sure that many local residents will see this as an insensitive move from Rockstar North.
"The game undoubtedly portrays Hawick in a bad light and is likely to sell tens of millions of copies over the next year."
He said it was "unfortunate" they had portrayed a "fine Borders town in such a bad light".
"They clearly do not know Hawick well, and that is why I have invited them to meet with me at my office on the town's High Street," he said.
"Hawick is one of the most beautiful towns in Scotland and I am sure that by showing them the town and telling them of its proud history they will realise the mistake they have made."