Kelso premiere for Michael Nyman's Hawick missal music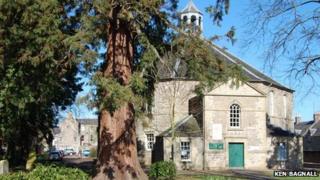 Kelso Parish Church has hosted the premiere of award-winning composer Michael Nyman's new piece inspired by a 12th Century missal fragment.
It was part of an ongoing project in Hawick following the discovery of the historic document in 2009.
It was the second part of the Fragments trilogy.
Earlier this year, a work by Sean Doherty - a young composer from Dublin - was performed in Jedburgh as part of the project.
Saturday evening's event was due to begin with a concert at Kelso Old Parish Church starting at 19:00.
It then continued at Kelso Abbey with an art installation set against a musical background.
The Hawick Missal Fragment was once part of a missal - a book which contained the texts and chants for a Mass.
It was discovered in 2009 in an uncatalogued collection of family and solicitors' papers by Rachel Hosker and her staff at the Heritage Hub in Hawick.