Wickerman Festival drug dealer ordered to pay £130,000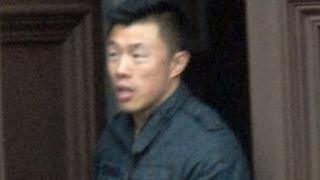 A convicted drug dealer has been ordered to pay £130,000 under the Proceeds of Crime Act.
Chan Lau, 31 of Russell Street, Paisley, was caught with drugs at the Wickerman Festival at Dundrennan, near Kirkcudbright, more than two years ago.
He was later sentenced to six months in prison despite appealing against his sentence.
Negotiations between the Crown and Lau have been going on for nearly a year but a payment order has now been made.
It gives him six months to pay the £130,000 and follows investigations into his affairs going back several years.
Lau was jailed for a total of six months for being concerned in the supply of drugs at the Wickerman Festival near Kirkcudbright in July 2011.
'Unexplained income'
He had denied three charges which involved cocaine, ecstasy and diazepam but later admitted them and was jailed by the sheriff at Kirkcudbright.
Lindsey Miller, head of the Serious and Organised Crime Division (SOCD), said: "This case clearly demonstrates the power of proceeds of crime legislation which places a significant burden on accused persons to account for 'unexplained income'.
"As Lau has now discovered, anyone convicted of drug trafficking, no matter the quantities, should expect to be made subject to the scrutiny of specialist teams from law enforcement and the Crown.
"The entire financial record of an accused for the six years prior to arrest is assessed.
"In this case, Lau was found to be unable to provide a legitimate source for £130,000 of his income, and today a confiscation order has been made for the entirety of that total."