Earlston haggis eating champ reveals secret of his success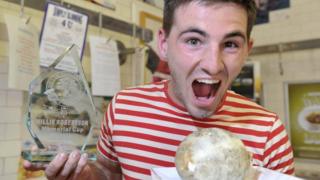 A three-times world haggis eating champion from the Borders has revealed one of the secrets of his success.
Earlston student, Lee Goodfellow, 21, won the title for the third year in a row at the Birnam Highland Games in Perthshire.
He munched through a 1lb (450g) haggis in 90 seconds to take the crown.
Mr Goodfellow said one key to his success was not to drink beer provided by the sponsors which could leave you feeling "gassy" and "fills you up".
His winning time this year was slower than in 2012, when he clocked just 77 seconds.
Indeed, it looked as if he had lost his title before meat from a rival competitor's haggis was found to be lying on the floor and he was disqualified.
That allowed the Borderer to bag the glass trophy and bottle of whisky given to the champion.
Minutes after downing Scotland's national dish, he also managed to help his team finish third in a relay race on the track.
Mr Goodfellow said: "I have been travelling around the Highland games circuit for a number of years and go to Birnam every year.
"You have to be 18 years old to enter the contest so I waited a few years and thought 'I fancy a go at that'.
"I finished third the first time but have managed to claim three in a row since."
Mr Goodfellow said it was important to avoid alcohol.
He said: "I just try to eat as much as I can quickly, but I also avoid the beer that is provided by sponsors.
"If you drink the beer, it leaves you gassy and fills you up.
"I am not aware of any other world haggis eating championships held anywhere else, so I think that makes me the undisputed champion."
He intends to defend his title next year and aims to win four-in-a-row.