Borders to Edinburgh rail route 'future-proofing' plea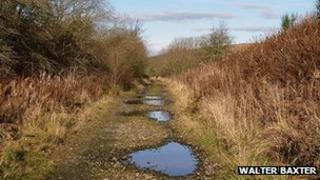 A campaign group has called for the Borders to Edinburgh railway to be "future-proofed" by allowing for cost-effective double-tracking in future.
It comes in response to Network Rail's plans for a bridge to carry the A7 over the single-track railway at Falahill.
The Campaign for Borders Rail wants to see the proposal redesigned to allow for double-tracking in years to come.
However, Transport Scotland said complete "future-proofing" of the railway would not be cost effective.
The CBR has claimed the costs of rebuilding works over a "live" railway could be 10 times those of building a wider bridge now.
Simon Walton, who chairs the campaign group, said Network Rail was showing "great professionalism" in its construction work.
He said it was regrettable that Transport Scotland had "shrunk back" the infrastructure specification of the Borders railway from 15.5 miles of double track to 9.5 miles.
"Despite their assurances that a two-minute punctuality margin will be sufficient for the initial planned train service starting in 2015, CBR remains to be convinced that it will be reliable enough," he said.
'Fast and efficient'
He said that if greater capacity were needed to address this or the line had to be extended it would make economic sense to allow room for a double-track stretch at Falahill rather than introduce an "insurmountable obstacle to capacity enhancement".
"It would demonstrate that the same high standard applied to the scheme's road requirements is being observed for the Borders railway itself," he added.
Network Rail has already amended its plans for the route of the railway and the bridge to carry the A7 in the area.
These would avoid the need to build a double-roundabout, which had raised some safety concerns.
A Transport Scotland spokesman said the Scottish government had provided investment of £353m for the railway which will re-establish passenger services between Edinburgh and the Borders for the first time since 1969.
"The 30 miles of new railway and seven new stations will deliver major economic and social development opportunities and offer a fast and efficient railway," he said.
"While complete future proofing of the railway is not cost effective, we have made provisions where possible including passive provision for future operations of four trains per hour in each direction from Newcraighall to Gorebridge.
"In addition, Network Rail is also currently considering alternative solutions and opportunities at Falahill."