Kirkcudbright pate firm Castle MacLellan submits expansion plans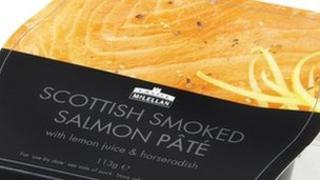 Plans have been submitted for a £5m expansion of a pate firm's factory in south west Scotland.
Castle MacLellan Foods announced the investment in its Kirkcudbright base from parent company Kavli in July.
A planning application for the scheme has now been lodged with Dumfries and Galloway Council.
The company said the project would allow the business to "capitalise on strong growth prospects for its premium products throughout the UK".
The plans would permit production areas to "expand and streamline" within the factory which employs about 80 staff.
Improvements would also be made to the storage facilities, amenities and services at the factory in order to "maintain the high standards" of the Castle MacLellan brand.