Dumfries and Galloway major event commitment 'crucial'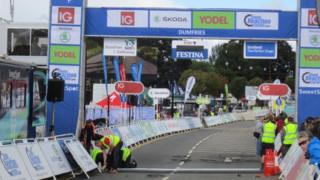 Dumfries and Galloway Council has allocated £300,000 towards hosting major events in the region over the next three years.
It is part of a drive to protect the "cultural, economic and tourism benefits" that they can bring.
Council Leader Ivor Hyslop said it was essential to have such a strategy in place.
He said the benefits major events could bring were "crucial" to a part of the country which was sometimes ignored.
"We have seen in the past how we have brought in major events, sporting ones, with the Tour of Britain cycle race," he said.
"That is a big event, it brings in a lot of people to the area and it also gets TV coverage which shows our area off in a good light.
"Some people don't know we are here and this allows us to actually be up there with the big boys and advertising our wares to the world."
He said that to access the funding, major events would have to meet certain criteria in terms of visitor numbers, attracting people from outside the region or cash generation potential.
Mr Hyslop said that, in turn, could allow smaller events to bid for funding from area committees.