Council steps in to aid Dumfries arts project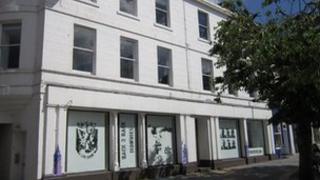 A council has agreed to intervene to safeguard the future of a £2m art-based regeneration project in Dumfries.
The Stove scheme in a former store on the town's High Street was threatened by a funding shortage.
A first phase of its conversion is complete but a second stage had stalled due to a lack of financial support.
Dumfries and Galloway Council has now agreed to take over the property at no cost and invest £32,500 to finish the work needed.
The building will be leased to the arts collective known as the Stove Network Ltd which has drawn up a three-year business plan for the facility.
Its remit is to collaborate with organisations involved in health, education, tourism and regeneration through all forms of art, including music, dance, literature and film, for the benefit of the wider community.