Sir Walter Scott's Abbotsford House visits approach 25,000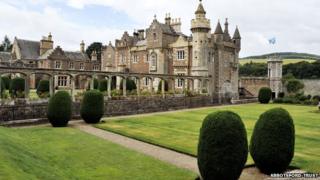 Nearly 25,000 people have visited the former home of Sir Walter Scott in the eight weeks since it reopened after a multi-million pound restoration.
Abbotsford House in the Borders was opened by the Queen on 3 July.
More than £12m has been spent on the restoration and refurbishment work to "preserve and protect" the property.
Abbotsford Trust chief executive Jason Dyer said the trust had been confident the site would attract visitors but figures had surpassed its expectations.
Numbers for the year have been boosted by a further 21,000 people taking in the attraction's gardens and its visitor centre in the run-up to the reopening.
The majority of the visitors were from England and Scotland but 30% were from elsewhere in Europe, 5% from the USA and 5% from the rest of the world including India and China.
Mr Dyer said: "Scott left a huge global cultural and literary legacy and we're delighted that the newly transformed Abbotsford is rekindling an interest in this great man.
"We're extremely pleased that this new chapter in Abbotsford's life has been so warmly welcomed, bringing new people to enjoy not just Abbotsford but, we hope, other towns and attractions in the local area too."