Darrin Callander jailed over Brian Scott murder in Dumfries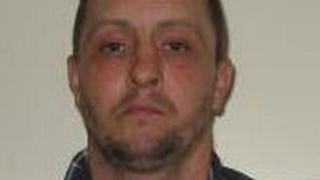 A killer who attacked a friend in his own home in Dumfries and left him to die has been jailed for life.
Darrin Callander, 40, punched, kicked and stamped upon frail Brian Scott after what appeared to be a minor row between the pair in April this year.
Callander then covered the bleeding 54-year-old with a duvet before leaving the flat in Gilbert Circle, Dumfries.
He admitted a murder charge at the High Court in Glasgow and received a minimum term of nine years and nine months.
The killing took place on 25 April this year while Callander was at Mr Scott's home with another man.
The court heard Mr Scott - a dad of five known as Tucker - had health issues and used a stick to help him walk.
Prosecutor Jim Keegan QC said an argument broke out between Callander and Mr Scott although it was not clear why.
Mr Keegan said Callander suddenly pulled his friend to the ground and began attacking him.
The other man who witnessed the assault described it as "full force" and that "Tucker had no chance".
The attack was said to have lasted up to five minutes before Callander threw a quilt over his badly hurt and naked victim.
He left with the other man before Callander was heard to say: "I hope I have not killed him."
The pair later returned to the flat and it was clear Mr Scott was dead.
The court was told the victim suffered multiple severe blunt-force injuries.
'Lost self-control'
It was also revealed that he had defensive-type wounds from trying to protect himself during the attack.
Jack Davidson QC, defending, said Callander "lost self-control" that evening, but what happened was "without pre-meditation or planning".
Lord Burns told Callander that the killing was "wholly unprovoked".
The judge added: "It is clear from the narrative I have heard and the photographs I have seen that the assault was prolonged and vicious.
"You were not deterred from the assault by pleas to stop.
"You then left the victim alone in the flat to die and did not seek assistance."