Heriot buzzard 'shot and poisoned'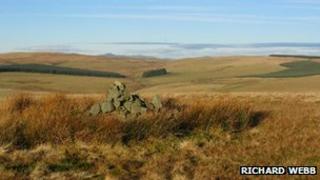 Police have revealed that tests on a buzzard found dead in the Borders have shown it was both shot and poisoned.
The bird was discovered by a member of the public next to a forestry plantation close to Carcant Hill in the Heriot area on 30 June.
It was initially confirmed that it had been hit by a shotgun pellet but it could not be established if this was the cause of death.
Further tests have now shown the bird was killed by poisoning.
The investigation has been complicated by the fact that the buzzard was found in a badly decomposed state.
Pc Hannah Medley, wildlife crime liaison officer for Police Scotland, said: "Now we have a definitive cause of death this will aid us with our investigation.
"Potentially we are talking about baits laced with poison that have been laid out in the open countryside for this bird to feed on.
"The use of poison is always of grave concern because it has the potential for indiscriminate contact beyond the birds illegally targeted and could therefore kill pets, other wildlife or anything else that may come into contact with it."