Fresh inquest into Hawick soldier Jason Smith death in Iraq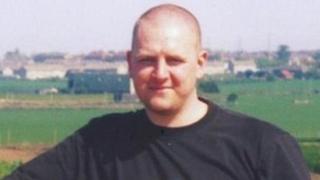 An inquest into the death of a Territorial Army soldier who died of heatstroke in Iraq 10 years ago will be reopened next month.
Pte Jason Smith, 32, from Hawick, died on 13 August 2003 after collapsing.
In 2006, an inquest by Oxfordshire's deputy assistant coroner Andrew Walker concluded he would not have died if the British Army had followed procedures.
Four years later the Supreme Court ruled that a fresh inquiry into the death should be held.
Pte Smith died while serving with the Territorial Army in Al Amarrah.
The inquest later ruled that his death was caused by a "serious failure" in not recognising the difficulty he was having adjusting to the climate.
Human rights
It prompted his family to begin a test case which led to a High Court ruling in 2008 that human rights laws could be applied to British troops in combat.
The UK government decided to appeal against that decision but that, in turn, was rejected by the Court of Appeal.
However, a final appeal to the Supreme Court proved successful.
In 2010, it ruled that British troops were not protected by human rights laws on the battlefield.
It also ruled that a fresh inquest, fully compliant with the European Convention on Human Rights, should be held.
The inquest will be held in Oxford on 16 September.