Iron Age roundhouse revealed in Borders dig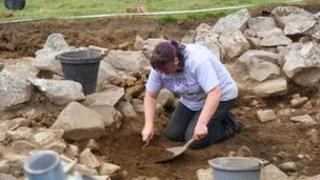 A team of archaeologists working in the Scottish Borders has discovered a late Iron Age roundhouse and a range of artefacts around it.
They have been working in the Manor Valley in Peeblesshire in recent weeks.
The area was surveyed earlier in the year and project manager Graeme Cavers said between 20 and 30 structures had been identified.
He said the number of discoveries in an area which is now virtually deserted posed interesting questions.
"It's quite a busy landscape so the question for us is whether that represents a densely-populated community or whether it's an accumulation of activity," he said.
One of the sites has yielded the remains of a late Iron Age roundhouse dating from a period when the Romans were in the area or just afterwards.
Artefacts found at the roundhouse site include some rough pottery, typical of the period.
There are also fragments of an oil-shale bracelet.
It is thought it could have been fashioned locally from materials brought in from Ayrshire or West Lothian.