Spring Fling 'generated almost £1m'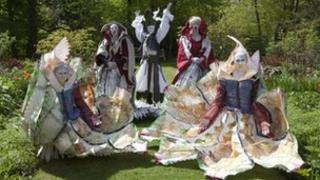 Organisers of the Spring Fling visual arts and craft event said it generated nearly £1m for the Dumfries and Galloway economy.
This year it attracted more than 35,000 studio visits - a record in its 11-year history.
A total of 93 artists and makers took part in the event in May which is also the highest figure it has enjoyed.
Spring Fling Manager Leah Black said the aim was for it to get "bigger and better, with more to do and see".
She said it created opportunities for artists and for many other businesses as well.
"This year it earned around £990,000 for the local economy, with nearly £200,000 spent in studios," she said.
"This would be good news at any time, but is all the more helpful during the current economic difficulties.
"We have lots of fresh ideas to make next year's event even more colourful and fun and look forward to welcoming new artists and makers to take part."
The Spring Fling sees artists and makers across south west Scotland open their doors to the public.
Research showed that more than half of its visitors came from outside Dumfries and Galloway and, of these, 72% said that Spring Fling was the main reason for the trip.
These visitors spent an average of 2.3 nights in the area, bringing "valuable revenue for the hospitality industry".
Artists and makers are now being invited to apply to be part next year's Spring Fling.