Michael Nyman creates new Hawick missal fragment music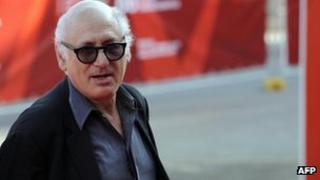 Award-winning composer Michael Nyman is creating a new piece of music inspired by a 12th century missal fragment found in the Borders.
It is part of an ongoing project in Hawick following the discovery of the historic document in 2009.
Nyman, who produced the soundtrack to The Piano, will hold the premiere for his new composition at Kelso Old Parish Church on 14 September.
It will be the second performance of the Fragments trilogy.
Culture Secretary Fiona Hyslop said: "I am delighted that Michael - who has won a Golden Globe, a British Academy Award, an Ivor Novello award and many more - is coming to the Scottish Borders to take part in the Fragments Project.
"To hear exciting new music composed by an internationally-renowned composer in the historic and spiritual setting around Kelso Abbey will be a once in a lifetime opportunity.
"It is wonderful that the Hawick Missal Fragment, a part of Scotland's medieval history, has inspired Michael Nyman and shows how our heritage continues to fascinate people from around the world."
Dr Matthew Cheung Salisbury, musical director of the Fragments Project, said he was looking forward to hearing "a contemporary response by a world-renowned composer".
David Taylor, portfolio manager for Creative Scotland, added: "Creative Scotland are delighted to support this community-wide celebration of music and art inspired by the Hawick missal.
"We would like to encourage as many people as possible to head along and enjoy the work of award-winning Michael Nyman in the inspiring environment of Kelso Abbey."
The Hawick Missal Fragment was once part of a missal - a book which contained the texts and chants for a Mass.
It was discovered in 2009 in an uncatalogued collection of family and solicitors' papers by Rachel Hosker and her staff at the Heritage Hub in Hawick.