Scottish golden eagle egg 'upturn' hopes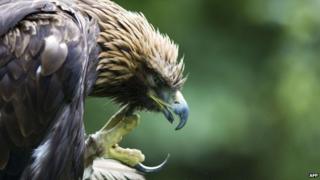 Wildlife experts have welcomed the news that two young golden eagles have attempted to breed in Scotland at just three years old.
They say it could signal an "upturn" for the birds in parts of the country.
Golden eagles usually nest for the first time at between four and six years old.
However, this year two three-year-old females laid eggs after mating with older males in the Scottish Borders and Aberdeenshire.
The eggs did not hatch but the breeding attempts are being seen as significant.
The new information about the breeding behaviour of golden eagles was discovered through a satellite tagging project run by the Highland Foundation for Wildlife, Scottish Natural Heritage (SNH), Natural Research and the RSPB.
Two satellite transmitters were attached to young golden eagles in Galloway and Strathspey in July 2010.
Two young females laid eggs this year, at just three years old, having mated with older males in the Scottish Borders and Aberdeenshire.
Roy Dennis, director of the foundation, said: "This is very exciting, as it is the first proof in Scotland that golden eagles can breed at three years.
"It shows that when they live in areas with plenty of food and little competition, golden eagles can breed at three years old.
"Unfortunately, the eggs did not hatch but that is not surprising for such young individuals."
Prof Des Thompson of SNH, who chairs the group running the work, said the areas where the birds had bred had both been identified as having several unoccupied territories.
He said previous research had pointed to a link between persecution and younger golden eagles managing to secure territories and attempting to breed.
"The shortage of older females may explain why such young birds have managed to breed," he said.
"Provided the right conditions now prevail - persecution free, good availability of prey, good weather, and appropriate habitat - then we hope that these birds will attempt to nest again next year and young will fledge.
"This would signal the start of an upturn of the fortune of golden eagles in these areas."