Eyemouth promenade closure move over wave safety risk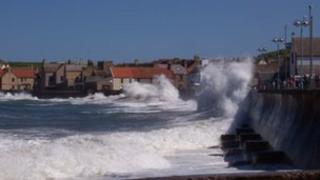 A Borders promenade is to shut during the highest tides to protect passers-by from waves coming over the sea wall.
The move follows a study which found "overtopping events" at Eyemouth could put members of the public at risk.
Last year a teenage girl was seriously injured at the harbour when she was swept out to sea while trying to pull a friend to safety.
After consultation with the public, a six-point safety plan has been drawn up to protect people in the area.
The first steps are to raise awareness of the issue in the community and spend £11,000 on temporary barriers.
During stormy weather, when the waves could pose a danger, the council will alert the harbour master, the local resilient community group, and its own staff.
They will then close off the promenade using the barriers - and ensure, as much as is possible, that people stay away from the wall.
A variable message warning sign will also be available from the beginning of June until mid-September.
It has been estimated the new measures could see the walkway closed up to five or six times a year.