Chapelcross nuclear funds help Langholm tablet firm grow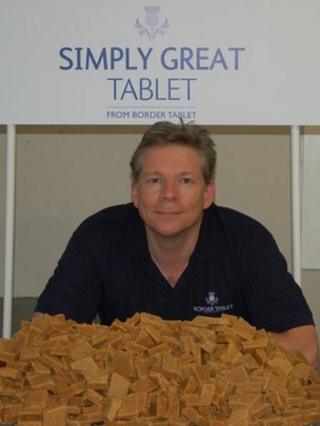 Funding to help cope with the economic impact of a nuclear plant closure has helped a confectionery firm expand.
The CXProject was set up to mitigate against the effects of decommissioning the Chapelcross site near Annan.
Langholm company Border Tablet received advice and grant funding in order to grow the business.
The firm has invested in rebranding, equipment and a new website and hopes to develop a range of flavoured tablets in the near future.
The business was bought over by Michael and Susan Robertson less than a year ago.
Mr Robertson said: "We're proud that our products are made from a family inherited recipe with no modern-day additives or artificial preservatives, just like our grannies used to make."
He advised anyone else considering applying for assistance to do so.
Chapelcross site director John Grierson said: "Border Tablet is just the latest example that the CXProject is making a real, positive difference in sustaining and growing local businesses to mitigate the impact on the local economy of the future decommissioning of Chapelcross.
"In the current economic climate, this grant has will allow Border Tablet to position and brand themselves strongly within the market place."
Ian Carruthers, who chairs Dumfries and Galloway Council's planning, housing and environment committee, added that it was "encouraging" to see businesses in the area getting funding and support.