Dumfries and Galloway death prompts tablet risk warning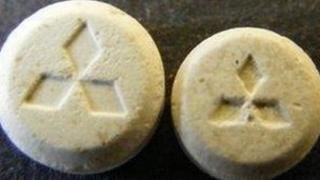 A warning about the risk of consuming "hazardous unknown tablets" has followed the death of a young man in Dumfries and Galloway.
Police and medical experts are investigating the circumstances of the incident in Annandale last week.
They believe the death may be related to tablets that the man had taken.
Director of Public Health Dr Derek Cox who chairs the region's alcohol and drugs partnership said it was "very concerned" by the incident.
In particular, he warned about tablets which looked like ecstasy but carried a logo which looked like the Mitsubishi car badge.
"These tablets may be sold as ecstasy but in reality the substances they contain are largely unknown and untested," he said.
"If taken they can have a dramatic effect on the user and the people surrounding them."
He said symptoms to look out for were high temperatures, overheating, dehydration, rapid heart rate, seizures and severe nausea and vomiting as well as a feeling of things creeping under the skin.
Dr Cox said the symptoms were treatable if medical help was sought early.
Acting Det Ch Insp Mark Hollis added: "Quality assurance is not something that is applied to illicit drugs, a fact that is supported by forensic analysis.
"You have no idea what you may have taken or the effect on your body.
"Drug dealers do not care what they are peddling, they are only interested in making money and do not care about the devastating effects of incidents like this may have on the local community and the families of those concerned."
He added that the death was being actively investigated and that police would "take every opportunity to report the persons responsible for supplying such a substance".