Dumfries and Galloway youth justice 'working well'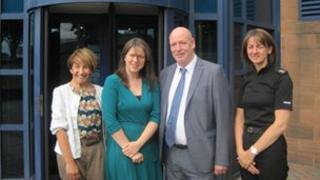 Minister for Children and Young People Aileen Campbell has been visiting Dumfries and Galloway to hear about the work of its youth justice service.
The region has seen a 49% reduction in youth crime in the past four years.
Lindsay Abrines, who chairs the Youth Justice Partnership, said the visit was recognition of "continuing success".
Ms Campbell said the service was clearly "working well" and having a "positive effect on local communities" in the region.
"Most young people in Scotland are a credit to their communities," she said.
"While youth crime is falling, we know some young people fall through the cracks and get involved in crime or antisocial behaviour.
"We must do all we can to steer these young people in the right direction in life."