Galloway Dark Sky Park enjoys 'fantastic' Perseids view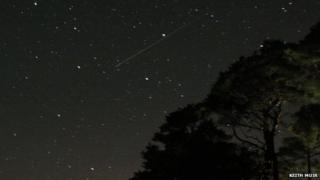 Visitors to Galloway Dark Sky Park have experienced "fantastic" views of the Perseids meteor shower, according to Forestry Commission Scotland.
The annual event was expected to peak at the start of this week.
The FCS tourism and recreation manager in Galloway, Keith Muir, said Monday night had provided the best views.
He said there had been a "steady stream" of visitors to the site, which straddles the regions of East Ayrshire and Dumfries and Galloway.
"The commission's car park at Clatteringshaws was full to the brim with star gazers, so the Dark Sky Park is certainly becoming a popular place to watch meteor showers," he added.
The natural phenomenon can include up to 100 of the flaming objects being visible in the sky in just one hour.
The shower occurs when the Earth passes through a stream of dusty debris from the Swift-Tuttle comet.
The cometary "grit" burns up when it strikes the atmosphere, creating spectacular streaks of light across the night sky.
The Galloway Forest Park received Dark Sky Park recognition in 2009 - one of a small number of sites to receive such an accolade.
The status is given to areas which are considered to offer the best star gazing possibilities in the world.