Savile float group in Lauder issue apology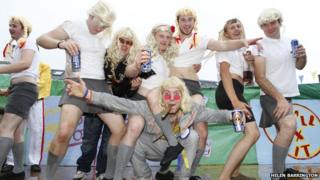 The people who dressed as Jimmy Savile and schoolgirls on a festival float have issued an apology.
They had caused a row after their appearance at the Lauder Common Riding festival in the Borders.
Christine Grahame MSP, whose constituency includes Lauder, said the float was "not a good idea" and in "plain bad taste".
The group who entered the float - the 2010 Club - said they had not intended to cause offence.
A statement said: "We, the members of the 2010 Club who participated in Lauder Fancy Dress recognise we made a serious error of judgement in our choice of subject for our float at this year's event.
"It was never our intention to cause offence to anyone.
"For the upset we have caused we unreservedly apologise."