Perseids meteor shower showcase for Dark Sky Park in Galloway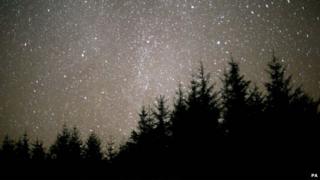 Forestry Commission Scotland staff in Galloway have said their Dark Sky Park should be an ideal vantage point to view a dramatic meteor shower.
The Perseids meteor shower is an annual event which is expected to peak between 10-12 August.
The natural phenomenon can include up to 100 of the flaming objects being visible in the sky in just one hour.
It is expected to be seen in many parts of Scotland, particularly where there is little or no street lighting.
The Galloway Forest Park straddles the regions of East Ayrshire and Dumfries and Galloway.
'Awe inspiring'
It received Dark Sky Park recognition in 2009, and was one of only four such sites in the world.
Keith Muir, head of tourism at Galloway Forest Park, said: "The Perseids meteor shower is an annual event that peaks around this time of year, when our planet passes through a debris field that is the remnants of the tail of a comet.
"These chunks of debris hurtle through earth's atmosphere and burn up - giving us an amazing shower of 'shooting stars'."
He added: "We hope we'll get a couple of clear nights because with the new dark-sky friendly lights being installed across the Dumfries and Galloway Region and the added bonus of the moon moving from a New Moon to first quarter phase, we'll have an extra-dark sky to make observing the Perseids easier and even more awe inspiring than usual."