Longbow firing to open Moffat Museum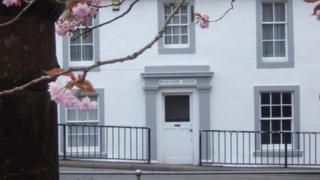 The Moffat Museum is to be officially reopened with the symbolic firing of a replica Neolithic longbow.
The events on Saturday mark the end of an expansion programme after the museum trust took over a neighbouring building, a former temperance hotel.
The longbow is a copy of one found near Moffat at Rotten Bottom.
The museum was established 28 years ago in Moffat's old bakehouse. Funding for the expansion included a substantial bequest from Australia.
There was also an award from the Heritage Lottery Fund and a grant from Clyde Windfarm.
New projects in the museum include the recording of oral history through the stories of Moffat residents.
Displays mainly intended for children include a working model railway layout of the old Moffat station.
The longbow is one of a number of major archaeological finds from Moffat which are being given on loan from National Museums Scotland.
It is made of yew and would have had a range of about 50m (164ft).
Radio carbon dating has placed in the period from BC4040 to BC3540.