Dumfries and Galloway plan aims to tackle consultant shortage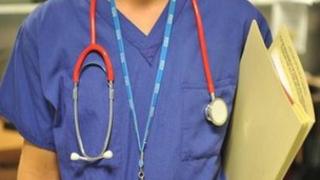 A new recruitment strategy has been put in place to deal with a shortage of specialist medical staff in Dumfries and Galloway.
The 12 unfilled hospital consultant posts represent a vacancy rate of 10%.
Temporary cover is in place, but the region's medical director has admitted the current position is a concern.
In a number of posts it has not been possible to find replacement specialists for doctors who plan to retire.
Medical director Angus Cameron said: "The service is maintained by locum doctors but that's never as satisfactory as having a full-time permanent consultant in post.
"We've got problems with ophthalmology, problems with radiology, problems in ENT (ear nose and throat) - it's across a range of specialities.
"Some of the posts are not vacant yet but we know the person has indicated they're retiring and a first attempt at recruitment has not been successful as yet."