NHS Dumfries and Galloway complaint delays investigated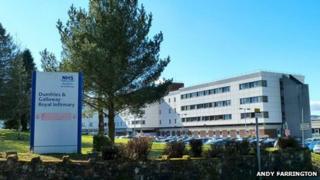 NHS Dumfries and Galloway has said it will investigate its complaints procedure after concerns were raised about delays.
Figures published for May showed that 17 complaints were lodged but the majority were not dealt with in under 20 working days.
This is the official target for handling grievances raised by patients or relatives.
The health board said some cases were complex and required additional time.
Nurse Director Hazel Boreland said: "The crucial thing is to make sure that we give people quality responses.
"There are times when I know I send investigations back because I'm not satisfied with them.
"This means the patient is not going to get their response within 20 working days."
She added: "I would much rather do that, let them know the reason why they're not going to get it within 20 working days, than send them out a letter that's factually inaccurate."