Donation boost helps Whithorn Trust stay open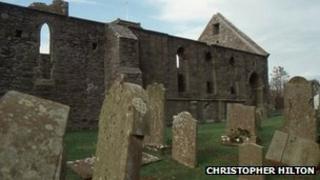 An organisation set up to promote the archaeology and heritage of Whithorn in Dumfries and Galloway has received a donation to help it survive the year.
Earlier this year, the Whithorn Trust announced it could be forced to close due to a funding shortfall.
The charity runs a visitor centre and museum charting the town's history as the "cradle of Scottish Christianity".
It has now received a donation of £10,500 from the John Liston Scottish Charitable Trust.
Whithorn Trust manager, Janet Butterworth, said the funding had given the charity some breathing space while it continued to work on a longer-term financial plan.
"We can stay open this year," she said. "This gives us a survival fund so that we can carry on operating this year, but more importantly we can now turn our attentions to looking at our structure and our organisation and what we do with our funding streams to survive into the future."