Heavy rain disrupts cross-border rail line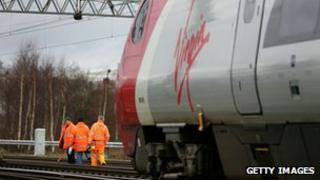 Flooding has caused delays to cross-border rail services on the West Coast Main Line.
The part of the line affected was just south of the border, as heavy rain fell in northern England and the south of Scotland.
It followed warnings from the Met Office that the rain would continue for much of Monday.
The warning covered an area which includes the Scottish Borders, Dumfries and Galloway, and parts of Lothian.
Forecasters said rainfall totalling 20-40mm (up to 2in) was likely. They said the rain would bring the risk of surface water flooding.
The heavy rain started on Sunday evening.
The Scottish Environment Protection Agency (Sepa) issued a flood alert for the Scottish Borders.
It said the heavy rain could cause some surface water flooding in built-up areas and from flash-prone catchment areas.
It warned that localised flooding of roads and properties in known hot spots was possible.