Wickerman Festival fans praised despite drug arrests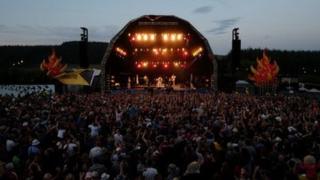 Police have praised fans at this year's Wickerman Festival after a "low number of arrests".
One man was arrested in connection with the supply of drugs at the three day event at Kirkcarswell, near Dundrennan.
A further 65 people were reported to the procurator fiscal in connection with the possession of drugs.
Police Scotland said they had put into practice lessons learned from other festivals at the annual event, which saw a record crowd of more than 18,000.
Those attending were met with a police search operation aimed at stopping drugs being brought in.
A number of traders were removed from the site by the Wickerman organisers for breaching conditions relating to the sale of so called "legal highs".
A 44-year-old man suffered a serious wound to his head after being assaulted at the event on Saturday 27 July at 00:25.
Police appealed for people to get in contact if they witnessed the incident.
Flares were set off in the crowd during one of the performances. Two men aged 16 and 18 were later arrested.
Ch Supt Alan Speirs said it was the first Wickerman Festival since the formation of Police Scotland.
He said: "Local officers worked hard to continue to deliver a community policing style, and the low number of arrests speaks volumes about the behaviour of the majority of festival goers."
No drugs supply offences were detected at last year's event, but 38 people were found in possession of illegal substances.
Similar to last year, many drivers took a voluntary breathalyser test to check on their fitness to drive when leaving the event.