Milko Van Gool thought to be fastest male solo swimmer across North Channel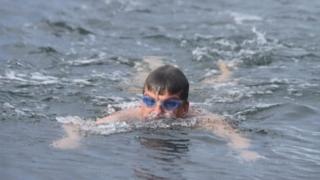 The world record for the fastest male solo swim across the North Channel is thought to have been beaten.
Dutchman Milko van Gool, 47, swam from Donaghadee in Northern Ireland to Portpatrick in Dumfries and Galloway in 10 hours and 34 minutes.
The married father-of-four swam 21 miles (35km) to raise funds for charity.
The North Channel is considered one of the most challenging open water swims in the world.
Mr Van Gool, who works at the EU delegation in Malawi, is an experienced open water swimmer and holds the record for the fastest swim across Lake Malawi, covering 14 miles (24km) in 8 hours and 46 minutes. He also swam the English Channel in 2011.
It is believed his swim on Tuesday is a new world record.
He said: "I am over the moon. I can't quite believe that I have beaten the world record. The jellyfish were horrible, but the seal that swam beside me really raised my spirits.
"The North Channel swim was the biggest challenge of my life. It is one of the Ocean's Seven - the world's toughest and most iconic channel crossings - and contenders must have completed the English Channel, or equivalent, to even be considered for the swim.
"Many people practise in special training pools but I wanted to make sure I really adapted to the harsh conditions so I decided to train in the sea as well."
Mobile clinic
He added: "Before I began, I estimated my chances of success to be 40-50%. Most attempts fail, primarily due to the cold and unpredictable weather, but also because of the jellyfish.
"Competitors are not permitted to wear a wetsuit because they increase speed, so I all I had to protect me were my goggles, trunks, a cap and grease to cover my body."
Mr Van Gool, was raising money for the Chauncy Maples Malawi Trust which is transforming a Scottish-built steamship into a mobile clinic to provide healthcare to people living by Lake Malawi.
The ship was built in Glasgow in 1899 and transported to Africa in 1901.
Mr Van Gool said: "Having lived and worked in Malawi for a number of years, I know just how important this mobile ship clinic will be to the people and how it will transform their lives. I am looking forward to seeing the Chauncy Maples completed, and knowing my swim will have helped."
Roz Savage MBE, who holds four world records, including the first woman to solo row the Atlantic, Pacific and Indian Oceans, said: "This is a stunning achievement for a vital cause. With every stroke Milko swims, he is raising funds for the people of Malawi."