Grandfather completes 600-mile trek for cancer research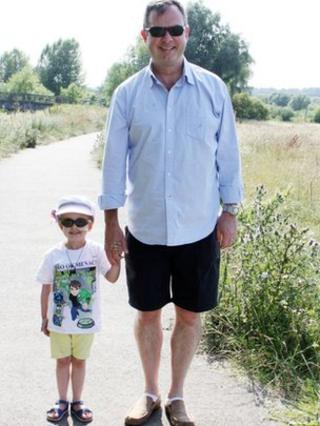 A man has trekked 600 miles on foot and on bike to raise money for charity after his six-year-old granddaughter was diagnosed with cancer.
Alistair McIntyre, 54, from Galashiels, walked and cycled from Fife in Scotland to Deal in Kent.
He was following the route taken by his grandfather Jimmy McIntyre in 1933 in search of work.
Mr McIntyre set up the In Jimmy's Footsteps appeal to raise funds for Cancer Research UK.
Six-year-old Belle McIntyre was diagnosed with neuroblastoma in 2011.
In an emotional finish, Belle's grandfather walked hand-in-hand with her on the final leg of his journey from Aylesham to Deal.
After completing his challenge, he said: "I'm absolutely delighted. I was a bit emotional as I finished as it was 610 miles in total, but I feel fantastic and we have raised a lot of money."
After being diagnosed with cancer, Belle underwent a gruelling two years of treatment, including chemotherapy, radiotherapy, surgery and stem cell transplant.
Now, supported by her parents Selena and Ben and three sisters, Holly, Abigail, and Marie, she is on maintenance treatment and back in class at St Stephen's Infant School in Canterbury where the family lives.
Belle's father said she has been tough and determined, traits shown by her great, great grandfather.
He was a miner who left his pregnant wife and son at home in Fife to set off on foot and bicycle in search of work in Kent in 1933.
Ben McIntyre said: "The way Jimmy and Belle coped with the situations they found themselves in show character, strength and a determination to live."
He added: "Thankfully, Belle is getting stronger and fitter as each day passes.
"The walk and all the fund-raising is a way of marking that and saying thank you for all the life-saving treatment she has had, and the support people have given."
The walk began on 23 June in Fife near the Loch Ore Mine where Alistair's grandfather once worked, and passed the Betteshanger Colliery near Deal - once the biggest mine in Kent.
During his challenge, Alistair used three different pairs of trainers
He initially set himself a £10,000 target but managed to exceed that figure even before he set off.
It now stands at £25,000 and he hopes to hit £30,000 by the time he finishes other fundraising events by the end of the year.