Borders railway contractors make Galashiels path pledge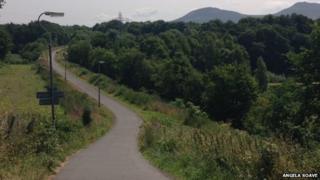 Rail contractors have promised to leave a popular Borders path open to the public for as long as they can before work gets under way on a new rail link.
Gates and fences have gone up on the Black Path in Galashiels - from Langlee into the town centre.
It was due to be shut from Monday but the public will still have some access while preparatory works continue.
Craig Bowman from Network Rail promised there would be alternative routes available once it closed.
The path follows the route of the old Waverley line and the restoration of train services between Edinburgh and Tweedbank by mid-2015 means it will revert to its former use.
Mr Bowman said there was no choice but to offer alternative provision in future.
"We are putting in some alternative accesses which will allow you to get from Tweedbank to Gala on a footpath," he said.
"It might not be as attractive a footpath and it is not necessarily as direct - but it will still be possible.
"Really that is because there is no alternative - we are building this railway through Galashiels, the Black Path follows the line of the old railway and the railway has to follow a similar route."