Glenmuckloch coal mine restoration plans unveiled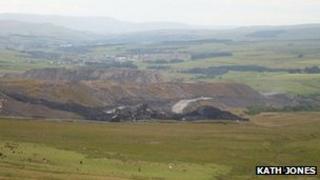 A landmark restoration project has been announced at one of the biggest open cast coal mines in southern Scotland.
It involves landscaping the Glenmuckloch site which straddles the Dumfriesshire and Ayrshire border north of Kirkconnel.
The former mine will then be turned into a renewable energy park.
It has been hailed as a major step forward for Scotland's energy sector and a benchmark for future mine restoration projects.
Land restoration is a planning condition of open cast mines.
However, the fate of the site had been uncertain after the collapse of surface mining firm Aardvark (TMC), the main trading arm of ATH Resources.
This week, a court ruled that anyone buying the liquidated assets of these companies has no obligation to assume responsibility for restoration and the cost that goes with it.
That could have left Glenmuckloch - just rescued from liquidation by Hargreaves Mining Services - in its current condition.
However, a collaboration has been announced involving Hargreaves, landowner the Duke of Buccleuch, Dumfries and Galloway Council, the Scottish government and the Scottish Mines Restoration Trust.
It involves landscaping the mine - creating a large lake with a carbon capture station - and, long-term, an energy park utilising a range of "complementary renewable technologies".
The move promises to create 60 jobs during the restoration phase.
Mr Ewing said he was pleased to see evidence of landowners and private sector companies working together to find "innovative solutions".
"The potential to explore further renewable energy projects and technologies is very exciting, and may well provide a blueprint for addressing restoration issues on some of the other former mining sites," he said.
The Duke of Buccleuch described it as an "important project" which created a "range of exciting opportunities for generations to come".
Gordon Banham, Hargreaves' chief executive, promised an "efficient restoration project" while Dumfries and Galloway Council leader Ivor Hyslop called it a "great example of effective, collaborative working".
Prof Russel Griggs, who chairs the SMRT, added: "This project to restore the Glenmuckloch open cast mining site represents a positive step forward for the local community and the coal industry in Scotland.
"We believe this project has the potential to set the benchmark for future restoration projects and will demonstrate what can be achieved when community groups, landowners, the private sector and government work together to deliver successful restoration."
However, Malcolm Spaven, who chairs the Scottish Opencast Communities Alliance, raised concerns about the project.
"We need to stick to the universally-accepted principle that the polluter pays," he said.
"Glenmuckloch is a case of the polluter evading responsibility for paying.
"We can't base future plans for restoring opencast sites on speculative schemes that might generate enough cash in future to fund the clean-up.
"What we need is a system that ensures that opencast companies pay to repair the damage they cause."