Dumfries travel scheme expansion plans put on hold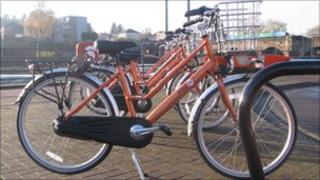 Plans to extend a sustainable travel project have been put on hold until firm evidence is produced to prove its effectiveness.
The GoSmart scheme has been piloted in Dumfries where more than £6m has been invested in a range of initiatives.
They include cycle paths, car share schemes, bike hire, public transport improvements and pedestrian crossings.
It has been credited with cutting car use but councillors want to see more data before taking it regionwide.
Members of Dumfries and Galloway Council's environment committee said they could not sanction that move without clear evidence of the success of the individual schemes.
Councillor Colin Smyth said he was yet to be convinced the investment had shown its worth.
"Before I can support that project being rolled out to other towns across Dumfries and Galloway I want to see evidence of which projects have worked in Dumfries and which projects haven't," he said.
"Those that haven't should be binned and ditched and we should focus on those schemes that actually do work and will bring benefits to the area.
"What little resources the council have need to be focused on things that work, not projects that frankly we just don't know if they work or not."