Former German war prisoner visits Kelso captivity site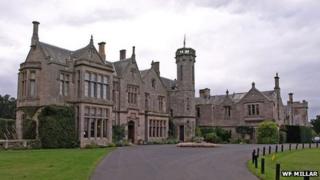 A former German prisoner of war has returned to the Scottish Borders to the site where he was held captive.
Horst Hassold, 87, was held at Sunlaws House - now the Roxburghe Hotel - near Kelso in 1945.
The former gunner in the German navy said he had always been grateful for the way he was treated in Scotland.
He returned to the Borders to visit the attic room where he slept. It is now used as a store room, but still has the prisoners' names on the door.
Mr Hassold was moved around camps across Britain before ending up in the south of Scotland.
In December 1945 he was billeted in Sunlaws House.
Because he had studied English for two years at school he worked as an interpreter and did the accounts for the canteen.
Now - nearly 70 years on - he has returned to the site of his captivity to see the room where he used to sleep once again.