Mull of Galloway community land purchase deal complete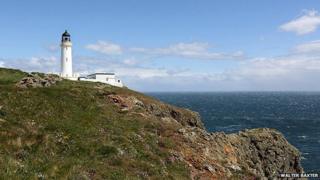 An official handover ceremony has marked a community buy-out deal for the most southerly tip of Scotland.
The 30-acre site has been sold by the Northern Lighthouse Board (NLB) to the Mull of Galloway Trust after it secured more than £300,000 of funding.
The NLB's Ian Webster carried out the ribbon-cutting to mark the deal.
The trust says it wants to preserve the Mull of Galloway as a place of "beauty and tranquillity" and protect it "for future generations."
Galloway and West Dumfries MSP Alex Fergusson called it a "great day" for everyone involved.
"The Mull of Galloway Trust and the people of Kirkmaiden Parish have worked tirelessly to bring this about and it is to the credit of the NLB that the transition has been virtually seamless," he said.
"While there is every reason to celebrate the handover, the hard work really starts now but it is obvious to all that both the trust and the wider community are more than ready to face the challenges that lie ahead.
"I have every faith that community ownership of this property will be an outstanding success".
South of Scotland MSP Dr Aileen McLeod described the handover as a "bit of history for Dumfries and Galloway".
"The Mull of Galloway is a unique and special place which has become an excellent tourist attraction and makes a significant contribution to the local economy," she said.
"It is exactly the sort of asset that I believe should be in community ownership and I think that Galloway is immensely fortunate that the community here has the vision, organisation and resilience to take on such an iconic place."
She added that this was "only the start" and there were "ambitious plans" to further enhance attractions in the area.
Seabird reserve
When the land was put on the market by the NLB as part of a rationalisation of its land holding, local people were given first refusal to buy it.
The sale includes premises already housing a community-run lighthouse museum and three letting cottages as well as coastal heathland and cliffs, which are also an RSPB seabird reserve.
A community takeover was seen as the best way to balance the Mull's tourism potential with the need for environmental protection - and the Mull of Galloway Trust was set up to achieve it.
Some 98% of local people who voted in a ballot backed the buy-out and the Scottish Land Fund provided most of the £300,000 required.
The sale does not include the lighthouse tower itself.
Its light will continue to shine as a safety beacon for sailors, as it has since 1830.