Poet Rab Wilson named as first James Hogg writer-in-residence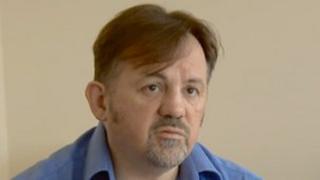 A Scots poet has been chosen as the first James Hogg writer-in-residence in the Scottish Borders.
Rab Wilson beat 27 applicants to win the post.
He will now follow in the footsteps of the writer known as the Ettrick Shepherd, and will live and write in the Ettrick Valley for six weeks.
Mr Wilson said it was time people were more aware of the Scots makars (poets) like Sir Walter Scott, James Hogg, Robert Fergusson and Allan Ramsay.
James Hogg composed his poems and famous novel The Private Memoirs and Confessions of a Justified Sinner in the Ettrick Valley.
Mr Wilson, a former Robert Burns Writing Fellow for Dumfries and Galloway, will now spend August to mid-September in an isolated cottage close to Hogg's birthplace, 20 miles beyond Selkirk.
He said the works of Hogg and other Scots poets remained "utterly relevant" today.
"But it will be interesting to try to form a picture in words of the Ettrick Valley right here, right now, in the 21st Century," he said.
The former miner and psychiatric nurse added: "Hogg was a working man: a shepherd, out there on hills, having to work from daylight to dark to earn his daily bread.
"Hogg was truly a man of the people, and I'd like to think I have that voice as well.
"Maybe everybody should be sent to the head of the Ettrick Valley for a month, to live without their mobile phone and their internet, away in the hills where they can reconnect with real life, and with nature, and just get in touch with their own humanity again.
"I think it will be utter bliss."
Mr Wilson, a native of New Cumnock, called his Ayrshire homeland "one of the last corners on Earth where you can still hear the language of Robert Burns pretty much unchanged".
"One of my main aims is to connect with the local people of the Ettrick Valley: I would love to meet characters who still have that good Scots tongue, and hear the language of Hogg," he said.
"To literally follow in his footsteps, and then write my responses to that landscape, it's going to be a challenge, but it's going to be great fun, and I'm really looking forward to it."
Ettrick Valley resident and councillor Vicky Davidson chairs the Ettrick and Yarrow Development Project, which organised the residency.
She said: "The Ettrick Valley has always been a creative place, and I'm sure Rab will produce great work during his time here.
"We are delighted to have such an accomplished poet on board."
Mr Wilson hopes to create a collection of poems from his experience, and to read some of them at Selkirk's YES arts festival at the end of his residency in September.