Guide shows Borders walk benefits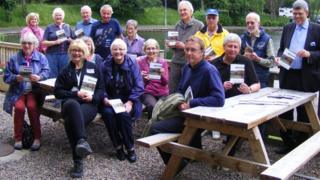 A new guide outlining easy-access walks and their health benefits has been launched in the Scottish Borders.
The brochure lists 31 walks, ranging over town and countryside.
The Walk It initiative, aimed at getting people out-and-about and keeping fit, operates in many communities across the region.
The booklet outlines many of the routes they use and hopes to encourage others to try out many of the walks which feature in the guide.
Denise Carmichael, project co-ordinator for Walk It in the Borders, said there was a growing interest in walking for health and exercise.
"It gives people ideas for walks on routes that are easy to access and over easy terrain," she said.
"But it also lists the interesting features to be seen along the route.
"Some of the walks may be unfamiliar to many people and I hope people will take the opportunity to try out walks in areas away from their own community."
'Valuable opportunity'
The new publication has been praised by Dr Eric Baijal, director of public health with NHS Borders and Scottish Borders Council.
He said the benefits of walking did not just include the physical like weight control, circulation or cardiac health.
"Walking in groups, especially, improves people's social well-being," he said.
"It can be a valuable opportunity to meet other people, form friendships and get involved in other social activities."