Funding boost for new whisky distilleries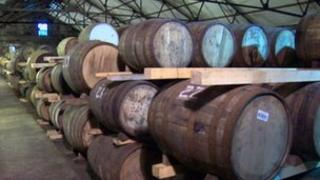 Five new whisky distilleries are to receive more than £5.3m in Scottish government grants.
The funding includes £1.8m for a new facility on the Ardnamurchan peninsula and nearly £1.6m for a micro distillery and warehouse in Glenrothes, Fife.
They are among 25 food and drink companies receiving a total of £9m for investment and marketing.
The funding awards were announced at the Royal Highland Show by Rural Affairs Secretary Richard Lochhead.
The Scottish government said the grants would lead to 159 new jobs being created in the food and drink sector.
Graham's Dairies is one of the companies to benefit from the latest round of Food Processing, Marketing and Co-operation (FPMC) grants.
The firm will receive a total of £630,000 to buy a site and install a yoghurt and cottage cheese line in Bridge of Allan and build new lines for semi-skimmed milk processing and low fat spreads in Nairn.
Fyne Ales is receiving nearly £360,000 towards the cost of converting a farm building into a new brewery in Cairndow, Argyll, while Rannoch Smokery will get £138,000 to help upgrade its factory and meat curing line in Kinloch Rannoch, Perthshire.
New jobs
The five grants supporting the construction of new distilleries in Scotland will lead to the creation of 40 new jobs, according to ministers.
Adelphi Distillery Ltd, which is receiving £1.8m towards the cost of a new facility on Ardnamurchan, welcomed the announcement.
Chairman Keith Falconer said: "This will represent a new, greener direction for Scotch whisky production, combining minimum environmental impact and maximum sustainable efficiency to create the very highest quality Scottish product.
"We are also committed to ensuring that the distillery benefits the wider food chain, from 100% Scottish-sourced malting barley to the provision of natural distillery by-products for local farms and crofts."
Among other new distilleries to receive funding is Ballindalloch in Aberdeenshire (£1.27m), Falkirk Whisky Distillery at Polmont near Falkirk (£444,000) and Anniston Farms at Lunan, Angus (£292,000).
The Scottish government said the latest awards from the FPMC scheme meant that 175 Scottish projects had received a total of £47m in support since 2009.
Mr Lochhead described food and drink as "one of Scotland's greatest success stories".
He added: "The growth and success of the Scottish drinks industry is continuing and this funding will benefit several companies across Scotland and support the creation of new jobs, further investment and export opportunities."