Dumfries arts project business plan sought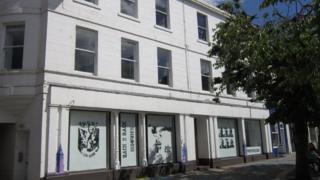 A council is to receive a full business plan before deciding whether to intervene to help safeguard a £2m arts project in southern Scotland.
The Stove building - a former High Street store in Dumfries - was converted to aid town regeneration.
The site is owned by Dumfries and Galloway Chamber of Commerce and run by a voluntary arts group.
Phase one of the conversion is complete but the chamber has said it cannot commit funds to the second phase.
Councillors had been asked to step in but they wanted more information about the project.
The remaining works programme, which is largely to ensure the complex is fully accessible, has a total cost of £242,000.
In a bid to find a way forward, Dumfries and Galloway Council was asked to intervene.
It had been proposed that ownership of the property was transferred to the local authority at no cost.
The building would then have been leased to the Stove for a period of 25 years.
As part of the deal, the council would have committed £82,000 towards completing the conversion work.
The remaining funding would have come from Scottish government and the Stove group.
Members of the council's policy and resources committee asked for a full business plan to be brought to their next meeting.