Dumfries hosts last homecoming parade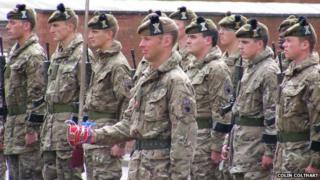 A last homecoming parade has been held in Dumfries to mark the return of 1st Battalion The Royal Regiment of Scotland from Afghanistan.
The event, involving about 200 soldiers and musicians, was postponed in April due to Margaret Thatcher's death.
Commanding Officer Lt Col Ben Wrench said it was an opportunity to thank people for their support.
He added: "This is the battalion's final parade and I am immensely proud of the soldiers.
"The support the public have given them since returning home shows them how much their efforts are appreciated."
The march started at the DG One centre and passed through Hoods Loaning, Shakespeare Street, Whitesands, Buccleuch Street, Burns' Street, High Street and English Street, before returning to DG One.
The parade was followed by a civic reception hosted by the council.
Hundreds of people lined the streets to pay tribute to the efforts of the soldiers, many of whom are originally from Dumfries and Galloway.