Court declares James Duff 'vexatious litigant'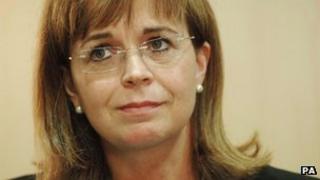 A man who raised repeated court actions against Scotland's top law officer and Dumfries and Galloway police chiefs has been declared a "vexatious litigant".
James Duff also made claims against ministers, the Law Society and Dumfries and Galloway Council.
He accused them of corruption and sought compensation totalling more than £115m.
Three judges in the Court of Session found he had raised proceedings in a "habitual and persistent manner".
However, they said that the opinions of the courts involved had been "almost universally unfavourable" to him.
Mr Duff's litigations began in 1976 when he was made bankrupt.
He subsequently raised a string of actions against a range of individuals and groups including former Lord Advocate Colin Boyd QC, ex-Dumfries and Galloway Chief Constables David Strang and Pat Shearer and Dumfries and Galloway Council.
As a result of the number and nature of those actions Elish Angiolini QC, during her time as Lord Advocate, raised a petition seeking to have Mr Duff declared a vexatious litigant.
Lady Paton, sitting with Lord Mackay of Drumadoon and Lord Marnoch in the Court of Session, gave a written judgement of the case.
She said: "In these actions the respondent has made repeated allegations of corruption, fraud, blackmail, pressure, collusion, fabricated police reports, police officers perverting the course of justice, a cover-up, a vendetta against him, and conspiracies.
"The actions and ensuing appeals have been dismissed and awards of expenses made against the respondent.
"The respondent's reaction has been to fail to pay any expenses, to leave some actions in a procedural limbo, and in several instances to reactivate old proceedings or to raise another action against the same defender in broadly similar terms as a previously unsuccessful action."
She said considerable time, funds and resources had been devoted to dealing with Mr Duff's "wholly unsuccessful actions".
"In our opinion, the circumstances of the litigations confirm and support the petitioner's contention that the respondent is indeed a vexatious litigant," she said.
However, she added: "The order which we pronounce does not prevent access to the courts but imposes a sifting mechanism which in the respondent's case is, in our view, entirely justified."