Scotland snow: Dumfries and Galloway road treatment costs neared £1m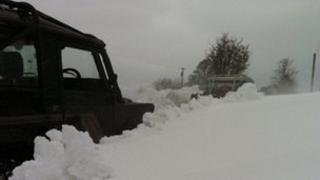 Severe winter weather conditions pushed a council road treatment budget nearly £1m over budget, it has been revealed.
Dumfries and Galloway Council's DG First division said more than half of that total was linked to the late blast of snow in the final week of March.
The severity of the winter weather saw a doubling in the number of council gritting operations.
The tonnage of salt used to treat local roads surfaces was also twice as much as the previous year.
A financial report to members of the DG First Management Committee shows that the costs involved in dealing with prolonged and extreme conditions ran £958,000 above budgeted levels.
Of that total, £555,000 was spent dealing with conditions which hit the south west of Scotland at the end of March.
They paralysed the region's transport network and left many drivers stranded overnight and prompted a police warning for motorists to stay at home.
The additional costs incurred have been partly off-set by a £500,000 Severe Weather Emergency Fund along with other underspends within the department.
However, the DG First report said that, even with the adjustments, the department's overall budget remained overspent by £162,000.
It has recommended that the council be asked to cover the unbudgeted costs from central funds and also to reinstate the weather emergency fund.