Cardiac patient ambulance blood checks 'save lives'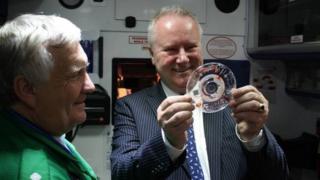 Paramedics are undertaking a "world-leading" trial of blood analysis of cardiac patients in the Borders.
It aims to produce test data within minutes and therefore speed up diagnosis and help to save lives.
Paramedics use a mobile unit to take a blood sample from patients in an ambulance en route to hospital.
Health Secretary Alex Neil said he wanted NHS Scotland to be at the "forefront of new and innovative technologies".
The initiative comes as result of a partnership between the Scottish Ambulance Service (SAS), the Scottish Centre for Telehealth and Telecare (SCTT), NHS Borders and Samsung.
A blood sample is taken from cardiac patients and a test run for troponin.
Troponin is a cardiac marker found in the blood following damage to the heart muscle caused by a heart attack.
The test, which normally has to be undertaken in hospital, differentiates between a heart attack and angina.
The early availability of information enables ambulance crews to deliver the most clinically effective care en route and provides vital information to cardiologists more quickly.
Prof George Crooks, SAS and SCTT medical director, described it as a "unique collaboration" with a "significant benefit to quality of care and clinical outcomes".
"Whilst currently in the evaluation stage, the initial results are very encouraging and demonstrate that such tests can be successfully undertaken by paramedics in ambulances," he said.
"We are looking at how this can be rolled out across Scotland.
"The rapid onset of developments in mobile technology opens up incredible opportunities for the NHS in Scotland to find innovative ways of delivering care that will improve the patient experience and ultimately save more lives."
Special training
Mr Neil said he was also pleased to see the system being tested in Scotland.
"Allowing clinicians to identify an appropriate course of treatment before the patient even arrives at hospital can be crucial," he said.
"This is an excellent example of partnership working that is set to help even more patients and save lives."
The pilot started in the Borders in November 2012 and has so far included more than 100 patients with cardiac chest pain.
Ten emergency ambulances were equipped with the Samsung B10 analysers and 57 paramedics in the region were given special training to use the machines.
Paramedics have worked closely with clinicians at NHS Borders and SCTT.