South of Scotland court closure opposition continues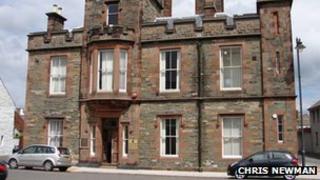 A motion has been submitted to a south of Scotland council opposing national plans to close a number of courts.
Ten sheriff courts and seven justice of the peace courts are currently earmarked for closure.
A motion to Dumfries and Galloway Council urges a rethink over the move which would see sites in Annan and Kirkcudbright close their doors.
Solicitors in the neighbouring Scottish Borders have also criticised plans to shut courts as a "false economy".
It has been estimated the closures could save millions of pounds in maintenance and running costs.
Justice Secretary Kenny MacAskill has said that money could "be better spent improving services and facilities at a smaller number of courts".
However, the move has faced opposition around the country with concerns raised about local accountability and travel distances to courts.
A motion to a full meeting of Dumfries and Galloway Council later this week reiterates strong opposition to the plans.
'Huge expense'
The local authority said in a written submission to the Scottish government that the move showed no understanding or concern for those living in rural communities.
Now a motion to Thursday's council meeting, proposed and seconded by Labour members Ronnie Ogilvie and Sean Marshall, expresses disappointment at Mr MacAskill's full support for the recommendations, and urges him to reconsider.
Meanwhile, in the Borders, local solicitor Rory Bannerman, of Bannerman Burke, has criticised a suggestion that further court cuts could take place in addition to those already proposed.
New "justice centres" could see areas such as the Borders move all court business under one roof.
Mr Bannerman said such a move would come at a "huge expense" and be logistically difficult for those appearing, given the lack of public transport links.
He insisted the current model, where one sheriff moves round four courtrooms in Peebles, Selkirk, Jedburgh and Duns, was actually far more cost-effective.