Tweed Valley osprey chick could be first in Scotland this year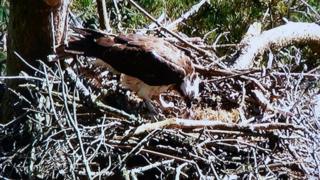 Volunteers in the Borders have spotted a hatched osprey chick in the Tweed Valley which they believe could be the first in Scotland this year.
It is the first of what they hope will be three eggs to hatch at a secret nesting site monitored by CCTV.
Ospreys have been nesting in the area for more than 15 years.
The parents of the latest chick to hatch have produced more than 20 offspring between them at the Scottish Borders site over the past 10 years.
The new chick can be seen on CCTV footage which is beamed back to Glentress Forest and Kailzie Gardens viewing centres, both just outside Peebles.
Osprey information officer Diane Bennett said: "We are thrilled to bits that the first egg has hatched and that it could be the first in Scotland.
"There's a lot of fussing going on at the moment by the adults, making sure the youngster is warm and fed.
"We're hopeful that the other eggs will also hatch over the next few days so that visitors to our popular viewing centres can watch all the antics live."