Dumfries Theatre Royal owners 'elated' by council funds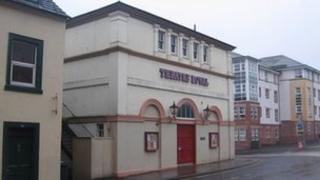 The owners of Scotland's oldest working theatre say the "last large piece of the jigsaw" is now in place for a £2m overhaul of the Dumfries facility.
Councillors agreed on Tuesday to free up £455,000 towards the upgrade proposals for the town's Theatre Royal.
Guild of Players spokesman Alan Henry said they were "absolutely elated" after a lot of "false starts".
A request for planning permission has been submitted and it is hoped work could start early next year.
Mr Henry said that if that was the case they aimed to have the overhaul completed by October 2014.
The project would see the use of adjacent properties to provide better access and facilities.
It is hoped the proposal would allow the creation of a specialised rehearsal area, a more welcoming foyer and enhanced bar and food facilities.
Another aim of the theatre owners, the Guild of Players, is to expand youth involvement.
A funding pledge from the Holywood Trust saved the 18th Century building from potential closure nearly two years ago.
Director Karen Ward-Boyd said she was pleased the council had at last agreed to get behind the plans.
"The theatre has a really strong following in the community," she said.
"The days of spending millions of pounds on nice, new, shiny buildings and cultural centres which the council was talking about a few years ago we saw as unrealistic and unsustainable in this climate.
"We thought actually you would be better investing in an existing facility that has support.
"We are not the only ones backing it, there are lots of backers now and finally the council has come on board as well."
The council's policy and resources committee agreed to release the funding for the project when it met on Tuesday.
It had rejected a previous bid for the cash, preferring to explore the possibility of a new cultural centre for the town.
However, it was agreed this week that investing the money in the Theatre Royal overhaul was the best way forward for the building constructed in 1792.